Top Los Angeles Portrait & Engagement Locations
This session planning guide offers an exhaustive list of recommended Los Angeles portrait locations.
Although tourists or private citizens can take photos almost anywhere, professional photographers are often constrained by local laws or by regulations enforced by private property owners.
---
Regrettably, many locations in Los Angeles require some sort of permit or special property permission—for portrait photographers or wedding photographers.
I typically recommend a location where we'll be isolated from large groups and other distractions. For this reason, early morning sessions at beach locations are recommended to avoid the crowds that arrive in the mid-morning and typically leave around sunset.
Likewise, for urban locations like downtown Los Angeles and Old Town Pasadena, I recommend early morning sessions when many of the businesses are closed and the sidewalks are mostly deserted.
Choosing times when bystanders and observers are not present improves your ability to focus and expands my options in terms of photographic locations at that venue.
In most cases, I typically discourage choosing multiple locations during your session as I can easily spend 2 hours at most of these locations without exhausting the most obvious photographic opportunities.
If you're set on choosing multiple locations, I'll certainly oblige your request. However, please remember that since your session time is continuous, the time we spend moving between locations reduces the amount of time that I'll spend photographing you.
If you'd like to be photographed at a location not listed here, please let me know and we can discuss whether your proposed location will present any legal, photographic, or situational challenges.
FAVORITE LOCATIONS
As a Los Angeles photographer, I've had the privilege of photographing subjects in hundreds of different amazing locations. However, my favorite locations are the LA Arboretum, Pasadena City Hall, the Santa Monica Pier, El Matador Beach and Disney Hall.
Keep in mind that we are often updating this list with exciting and new places to shoot! Southern California has endless opportunities for photos and is easily the best location in the country for photography locations.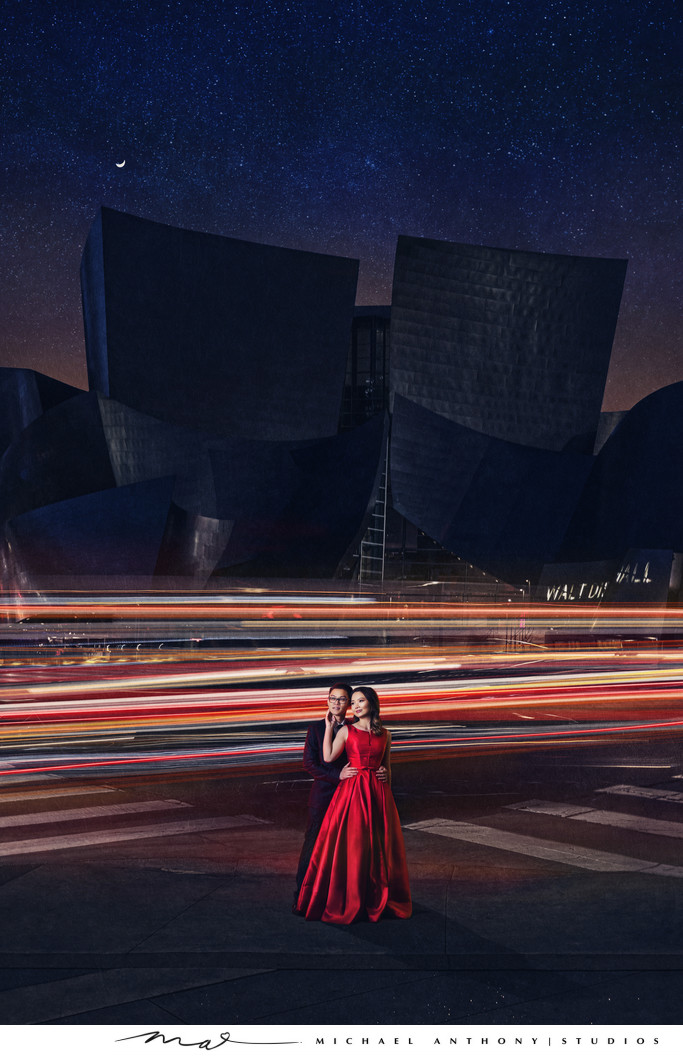 NATURE LOCATIONS
---


ARBORETUM OF LOS ANGELES COUNTY (PERMIT / TRAVEL FEE REQUIRED)
Located in Arcadia, California (near the Santa Anita Race Track), the LA Arboretum offers a superb garden setting ideal for portrait photography. This location requires a permit fee of $50 for walk-on access or $300 for a chauffeured golf cart (advanced booking required).
We typically start at 2:30 pm, and this location is generally better to shoot in the evening. Normally you can't enter the park before 9:00 a.m.
If you choose the golf cart, we can cover quite a bit more ground than we could by walking alone, but that is admittedly an additional expense. If you've arranged for a chauffeured golf cart, you'll want to ask them to meet us at the gated entrance near the gift shop. If we're walking, we'll meet outside the main doors to the Arboretum entrance.
Important: This location no longer allows clothing changes, on-site hair stylists, or tag-along makeup artists, therefore we recommend a single outfit for this particular location.
More information about how to acquire a permit is available here or you can call (626) 821-3244. The official Arboretum address is 301 N Baldwin Ave, Arcadia, CA 91007. Parking is free.
ARLINGTON GARDEN (PERMIT / TRAVEL FEE REQUIRED)
This little-known oasis offers us a great location for a short portrait session. As Pasadena's only dedicated public garden, Arlington Garden is a great example of urban open space. Olive allee, succulents, cacti, sycamores, an orange grove, and pathways leading to a vernal pool make it a great location for photography.
Portraits for this location require an early morning or just-before-sunset start time in order for me to achieve best results. We'll meet at 295 Arlington Drive, Pasadena, CA 91105 where street parking is typically available and always free.
CALIFORNIA INSTITUTE OF TECHNOLOGY - CALTECH (PERMIT / TRAVEL FEE REQUIRED)
Caltech provides an amazing location with a wide range of varied architectural and green-space backgrounds. I lived less than a block away from Caltech for over 8 years so I'm quite familiar with this area. This location requires a $300 photo permit and offers availability after 5:30 p.m. on weekdays and anytime on weekends. However, I've been informed by some subjects that they may be offering discounted permits for as low as $50.
Please contact the permit office for more information about the permits or contact James Muro at the Caltech Ticket Office at events@caltech.edu or (626) 395-4652. You can also get started right now and download the application. We'll meet at the fountain in front of Millikan Library. Street parking is free and typically plentiful.
DESCANSO GARDENS (PERMIT + TRAVEL FEE REQUIRED)
Located in La Cañada Flintridge, Descanso Gardens offers an elegant background for engagement sessions. The gardens are available on weekdays from 9:00 a.m. to 4:00 p.m. and on weekends from 9:00 a.m. to 2:00 p.m. with a permit fee of $300 for engagement sessions lasting up to 2 hours.
You'll need to review their photo permit information and make a reservation via their Special Events Office at (818) 949-4291. For this location, I recommend a 9:00 a.m. start time. Parking is free. We'll meet at the seats immediately adjacent the main entrance ticket counters. The address is 1418 Descanso Dr, La Cañada Flintridge, CA 91011.
HUNTINGTON LIBRARY, ART COLLECTIONS, AND BOTANICAL GARDENS (PERMIT + TRAVEL FEE REQUIRED)
The Huntington Library in San Marino is an amazing location for engagement session portraits. In fact, it's one of the finest and most varied garden settings in Southern California. In addition to a $300 refundable security deposit, the total fees for up to 3 hours of photography during non-public hours is $785. During public hours the fees are $885. Due to the size of the property and the limited time allowed, I recommend renting the Huntington's golf cart for $150.
Since my agreement and certificate of insurance is already on file, rather than the 30 days normally required and subject to availability, reservations may be made within 12-15 business days of your engagement session date.
The Huntington's public hours are from 10:30 a.m. to 4:30 p.m. on weekends. Monday and Wednesday to Friday hours are from noon to 4:30 p.m. with extended summer weekday hours of 10:30 a.m. to 4:30 p.m. from Memorial Day (last Monday in May) to Labor Day (first Monday in September). The Huntington is closed on Tuesdays. Therefore, your best times for an engagement session are between 7:30 a.m. and 10:30 a.m. or after 4:30 p.m. during summer months when sunset occurs later in the evening.
For more information about obtaining access, please contact Christine Springhorn at portraitphoto@huntington.org or (626) 405-3426. We'll meet the security guard escort near the ticket booth at the main entrance to the gardens. Parking is free. The address for the Huntington is 1151 Oxford Rd, San Marino, CA 91108.
LACY PARK (ENTRY FEE / TRAVEL FEE REQUIRED)
Lacy Park, located at 1485 Virginia Rd, San Marino, CA 91108 includes 35 acres of green grass and mature trees is situated on what were once General Patton's hunting grounds. Two paved paths trace the perimeter of the large central grassy area and provide a fair (but not great) backdrop for photography. Lacy Park's hours of operation are Monday to Friday (6:30 a.m. to Dusk), Weekend Hours (8:00 a.m. to 8:00 p.m. during Daylight Savings Time), and Weekend Hours (8:00 a.m. to 6:00 p.m. during Standard Time). Unless you're a resident of San Marino, there is a $3 entry fee on weekends.
O'MELVENY PARK
For our brides who love the ethereal look of winding trails and luscious greenery, O'Melveny Park is a great option. This park is always green, and showcases a beautiful lemon grove right at the entrance. As you walk through the pathways, you'll find trees and quaint wooden fences lining the park.
O'Melveny Park is open from sunrise to sunset. Parking is free, however the parking lot can get full quickly, but if that is the case you are able to find parking on the street.
O'Melveny Park does require quite a bit of walking so make sure to bring comfortable shoes to your shoot!
O'Melveny Park is located in Granada Hills at 17300 Sesnon, Blvd, Granada Hills, CA 91344.
PLACERITA CANYON NATURE CENTER
Placerita Canyon is one of the most beautiful places in Los Angeles for engagement photos if you are looking for warm, golden California Light. The best thing about this venue is it's contrast between warm and earthy tones. We love photographing here particularly because the park is easy to access.
SAM MERRILL TRAIL HEAD (TRAVEL FEE REQUIRED)
If you're looking for a wilderness background for your portrait session, then you might consider the Sam Merrill trail head at the entrance to the old Cobb Estate at the top of Lake Ave in Pasadena. This popular hiking location leads visitors to the lower San Gabriel mountains.
However, we'll just step a few hundred yards off the road to get the photos we need. If you've ever hiked the Angeles National Park anywhere around Los Angeles, then you already have a pretty good idea as to the scenery you'll find there. Please note that there are no restrooms or secluded changing areas at this location, unless you want to do your business behind a bush.
The footing is a little bit rough walking into this location so you might want to avoid your high heels until you get to where we're going to start the photography. Due to way I like to use the light at this location, we'll want to start no later than 8:00 a.m. for morning portrait sessions and no earlier than 1.5 hours before sunset for evening sessions. I'll meet you at the gated entrance to the trailhead where I'll be sitting on my favorite rock with my camera in hand.
Lots of street parking is available, but you may need to walk just a bit to get to the entrance if lots of people are hiking out there. To get there, from the 210 freeway in Pasadena take Lake Avenue north 4 miles until you reach a sharp left turn. The trailhead is located right there at the intersection of Lake Ave and E Loma Alta Dr.
SUMMIT PARK
Summit Park is a natural park nestled in the hills of Valencia, complete with oak trees and an open field perfect for photos. This location looks amazing in the fall with the changing leaves, making the perfect backdrop for your engagement session. In the summer, this location is in bloom and offers a gorgeous wooden bridge at its center. This location is perfect for a boho bride that's looking for natural photos.
VASQUEZ ROCKS
If you love sandy desert locations with lots of rocks, then Vasquez Rocks might be perfect for your portrait or engagement session. Located near Palmdale in the Sierra Pelona Mountains, you've probably seen this rocky landscape featured in movies like Austin Powers, Bill & Ted's Bogus Journey, Blazing Saddles, Jay and Silent Bob Strike Back, and Planet of the Apes. You've also seen it in TV shows like 24, Battlestar Galactica, The Big Bang Theory, Bonanza, CSI, Friends, Mission: Impossible, NCIS, and The Twilight Zone. And if you're into music, you might have seen it in MTV music videos featuring Enrique Iglesias, Michael Jackson, Radiohead, Marilyn Manson, Rihanna, and Justin Timberlake. But beyond all those references, the location probably became most famous when it was featured in the 1967 Star Trek episode "Arena" where Kirk battles a lizard-like alien called a Gorn. Given the many challenges associated with this photographing people in this natural area park, this location is only suitable for a sunrise session. Taking full advantage of this location isn't possible otherwise as we'd face difficult lighting conditions and obstructed views due to people and cars. To determine our ideal start time, just type "sunrise YOURDATE" into Google. The terrain at this location is uneven and challenging so consider wearing sensible footwear. We'll meet at the gated entrance to Vasquez Rocks Natural Area Park ten minutes before sunrise and walk about a half mile in to the most famous rock formations. The address is 10700 Escondido Canyon Rd, Agua Dulce, CA 91350. There's plentiful free parking on the side of the road.
ARCHITECTURE/CITY LOCATIONS
---


BEVERLY HILLS (TRAVEL FEE REQUIRED)
Beverly Hills isn't often thought of as a go-to location for engagement photos, but this location offers a lot in the way of beautiful architecture and lends well to lifestyle photos. Between the iconic Beverly Hills sign and winding streets through Rodeo Drive, this location gives a unique feel that you can only find here.
We typically start our shoots at Beverly Hills Park. Here we can get a natural look with a lot of greenery. We can also use the trees with exposed roots to capture some dynamic, cinematic images.
Afterwards we can walk down Rodeo drive and capture more lifestyle images. While most of the shops are off-limits as they are private property, we can shoot on any of the public streets.
We highly recommend shooting here on weekends or very early in the morning. Like many locations, this particular one has many tourists that we have to shoot around.
Parking can be found on the street at Beverly Hills Park, and is meter-based.
BRADBURY BUILDING (PERMIT REQUIRED)
The Bradbury Building is an iconic downtown Los Angeles location, perhaps most famous for being prominently featured in the Harrison Ford film, "Blade Runner." It's also the oldest commercial building in the central city. This location requires a permit.
For more information about that permit, call (213) 626-1893. Due to the difficulties (and expense) related to obtaining a permit, this is not a recommended engagement session location. This address for this location is 304 Broadway, Los Angeles, CA 90013.
CHINATOWN
A portrait session in Chinatown works best in the early morning or late afternoon on Saturdays and Sundays. For a two hour engagement session, if you'd like, we can also visit nearby Walt Disney Concert Hall. Street parking is available and several nearby lots charge $5 for all day parking.
Although this was once a favorite downtown location, while photographing a 2013 engagement session I was told by a security guard that photography was not allowed without a permit. Even though I told the guard that the City of Los Angeles doesn't require a permit for photography in Chinatown, my arguments were rejected and we were asked to leave.
Because of this ejection, I now consider Chinatown a less-than-ideal location for engagement session photography. If you'd still like to choose this location, we'll meet at the east entrance to the Chinatown Central Plaza located at 943 N Broadway, Los Angeles, CA 90012.
DISNEYLAND & CALIFORNIA ADVENTURE (ENTRANCE & TRAVEL FEE REQUIRED)
The "happiest place on earth" can be a super-interesting portrait location. That being said, it's not an easy place to take photographs of couples or individuals. First of all, visiting crowds can make it difficult to for me to capture the kinds of photos that I prefer. As an additional consideration, due to the size of the park and the amount of time necessary to board rides—like the Mad Tea Party teacups and King Arthur Carousel—for a typical one or two hour session we simply can't cover much ground and thus will have to plan carefully how we'll make the best use of our time. We also have to be extremely considerate of park guests or face immediate expulsion. For these reasons, Disneyland and California Adventure are on my "not recommended" list. Parking in the Mickey & Friends parking structure is $16. We'll meet beyond the security checkpoint near the ticket counters. I recommend that we start the session when the park opens in order to avoid the most significant crowds. The address for Disneyland is 1313 Disneyland Dr, Anaheim, CA 92802.
GREYSTONE MANSION (PERMIT & TRAVEL FEE REQUIRED)
This famous Beverly Hills estate can serve as a stunning backdrop if you want an iconic backdrop for your engagement session or portrait session. That being said, this location presents difficult lighting situations at most times during the day and can sometimes be busy with tourists. Available areas for photography include the formal gardens, the pool, and inner courtyard area. Unless you're a Beverly Hills resident, permits for this location are $290 per hour and include access to building exteriors only. For more information, call (310) 285-6835.
GRIFFITH OBSERVATORY
Griffith Observatory is a famous Los Angeles landmark in the heart of Griffith Park. Situated on the top of a hill with the Hollywood sign in the near distance, I sometimes receive requests for portrait photography at this location. However, due to the popularity of this landmark as a tourist location, parking can be extremely difficult, sometimes necessitating parking on the side of the road far down the hill and walking up to the observatory.
The observatory is also a common and central location for many groups meeting for weekend activities (like bikers, runners, or hikers). Heavy car and pedestrian traffic is common. Finally, due to the way light falls on the Observatory grounds and the surrounding landscape, commonly desired background landmarks like the city skyline and the Hollywood sign are not always ideally situated.
The address is 2800 E Observatory Ave, Los Angeles, CA 90027. We'll meet at the base of the Astronomers Monument located in front of the Observatory's north doors. I recommend an 8:00 a.m. start time for engagement sessions at the Griffith Observatory.
LACMA/City Lights – DTLA
The lights at LACMA are easily recognized as one of the top photo destinations in LA. This permanent art installation outside of the Los Angeles County Museum of Art is made up of towering street lamps and is completely lit up at night.
During the day, this maze of lights creates a beautiful modern backdrop that's super instagramable.
This location has a lot of street parking. It's advisable that couples that want this location book a second location as well. While LACMA is beautiful for the street lamps, it's kind of a one-trick-pony, and we prefer to have some other locations that can give you more variety.
OLD TOWN PASADENA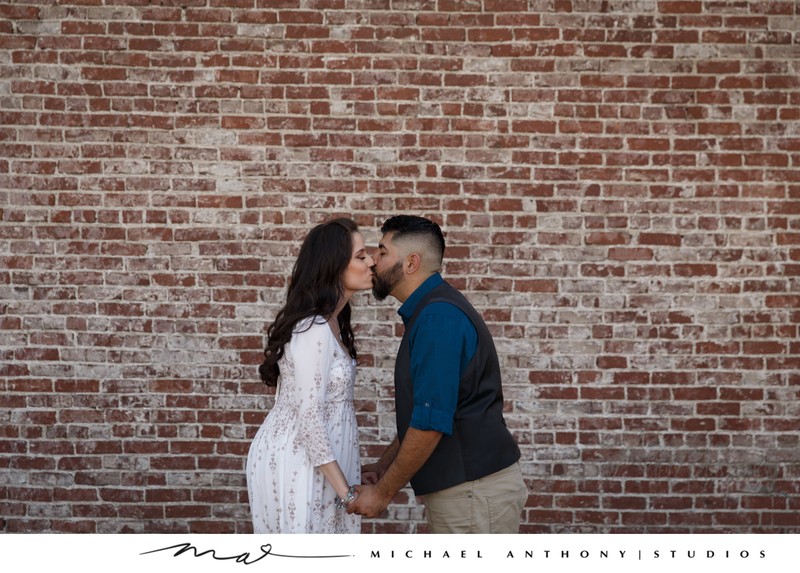 If you'd like a mild urban flair for your portrait session, you might consider Old Town Pasadena a viable location. A permit is not required for most areas of Old Town (with a few notable exceptions) but we'll need to be cognizant of authorities or property owners who may approach us at any time and prevent our continuation of the engagement session.
We'll meet in front of the Apple Store located at 54 W Colorado Blvd Pasadena, CA 91105. To prevent interference with local businesses and to ensure that shoppers aren't nearby, I recommend an early morning start time for engagement sessions in Old Town Pasadena.
PASADENA CITY HALL
For this location, I typically recommend an early weekend morning start time or a start time two hours before sunset Monday through Friday. In years past, a permit was required for this location but the rules have recently changed. As such, Pasadena City Hall is now a popular location for photography of all types. You therefore shouldn't be surprised to see other people having their photographs taken there during our session, but there's plenty of room for everyone. But don't worry. Most of those other photographers don't know the best spots anyway.
For this location I typically prefer meeting during the last few hours before sunset. However, for weekend dates, suitable light is available almost anytime.
For 1-hour portrait sessions, I recommend that you park at a nearby 2-hour meter to avoid the worry of a ticket. For 2-hour Saturday engagement sessions, I recommend parking in the garage located at 330 E. Union Street. Parking in that garage is typically $4. The garage is unavailable on weekdays for City Hall visitors and thus for weekday engagement session, I recommend parking in the lot at 233 East Union Street for $6. For Sunday engagement sessions, metered parking isn't enforced so pick any metered spot that's convenient to you.
We'll meet under the tower dome located on the west side of the building. The address is 100 N Garfield Ave, Pasadena, CA 91101.
PASADENA Princess (Permit Required)
Pasadena Princess is an iconic mansion located in the foothills of Pasadena's mansion row. This stunning property features beautiful grounds and allows couples to photograph for a span of three hours.
This property is privately owned, but is rented by The Wedding Estates company, which manages multiple beautiful properties. The location is opulent with baroque sculptures throughout it's labyrinth gardens.
Rental fees here start at $2700 for three hours at the time of this writing, so it is a significant investment that may be better suited for wedding photos than engagement photos. Despite that fact, this location stays booked year round so we will likely need to book it well in advance for any shooting.
Pasadena Princess does not share it's address publicly, however we will handle the booking and coordination for you of this beautiful Pasadena wedding photography location.
THE QUEEN MARY (PERMIT & TRAVEL FEE REQUIRED)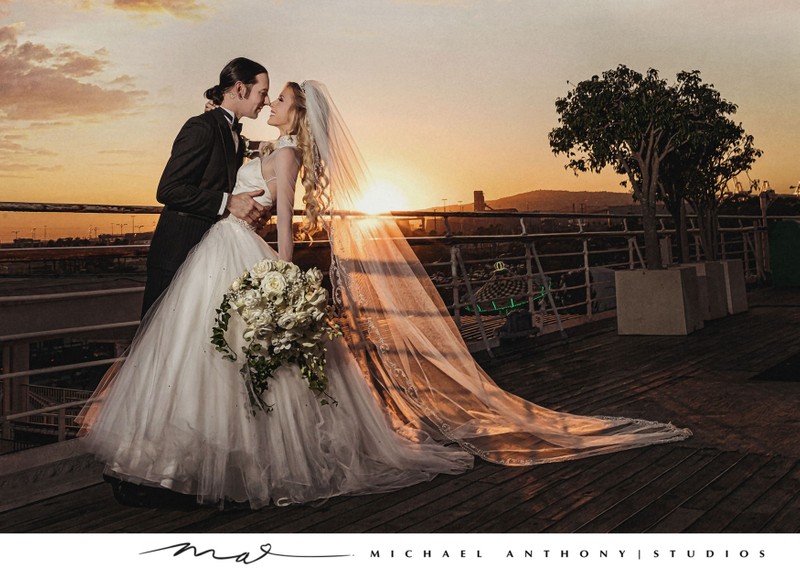 This famous landmark can serve as a good to great location for portraits. The permit fee for photography is $340 for up to 2 hours. Availability is typically limited to weekdays except when special accommodations can be arranged through the Queen Mary's Special Events Manager, Eleni Manukailea. She can be reached at (562) 499-1659 or eleni.manukailea@queenmary.com. The address for this venue is 1126 Queens Hwy, Long Beach, CA 90802.
SAN GABRIEL MISSION (PERMIT & TRAVEL FEE REQUIRED)
The Mission San Gabriel Arcángel is an important Los Angeles landmark that can serve as a great backdrop for your portrait photography. Although photography around the outside of the mission doesn't require a permit, we'll need a permit access to the interior gardens.
To take full advantage of this location, a permit is recommended. Permits are $100 for "one hour or less" although time spent in the gardens is typically not closely monitored. The San Gabriel Mission is located at 428 S Mission Dr, San Gabriel, CA 91776. Before we get started, we'll meet on the sidewalk in front of the gift shop.
TRAVEL TOWN MUSEUM (FREE PERMIT REQUIRED)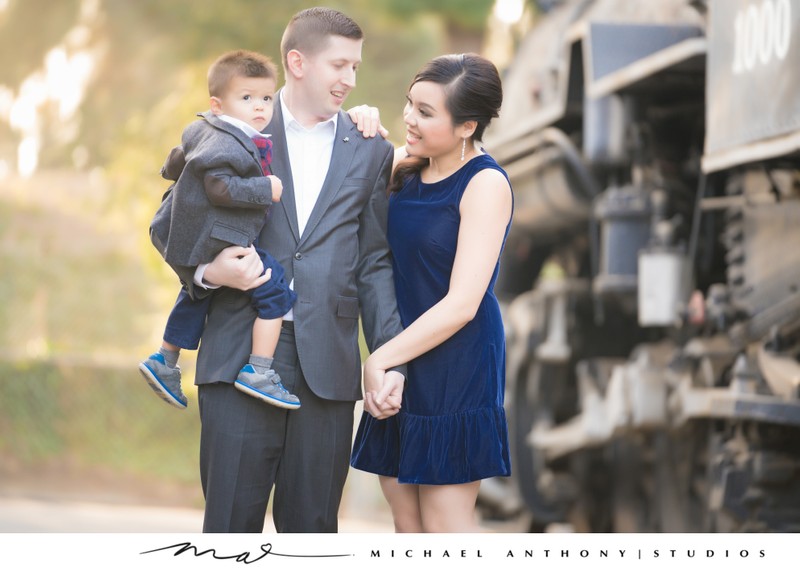 Located near the Los Angeles Zoo, Travel Town is excellent if you'd like a vintage train setting. Travel Town is open from 10:00 a.m. to 5:00 p.m. on Saturday and Sunday. I'd recommend a start time of 10:00 a.m. to avoid crowds.
There are no fees for photography at this location but since we'll be doing "formalized posing" you must call the Travel Town Museum Foundation at (323) 668-0104 at least 14 days prior to your scheduled engagement session and ask to be placed on their list for approved photography. Persistence is often important in order to receive this permission. Props, costumes, and wardrobe changes are not permitted at this location. Parking is free. Travel Town is located at 5200 Zoo Dr, Los Angeles, CA 90027. For this location, we'll meet on the sidewalk just outside the main entrance.
UNIVERSITY OF CALIFORNIA, LOS ANGELES - UCLA (TRAVEL FEE REQUIRED)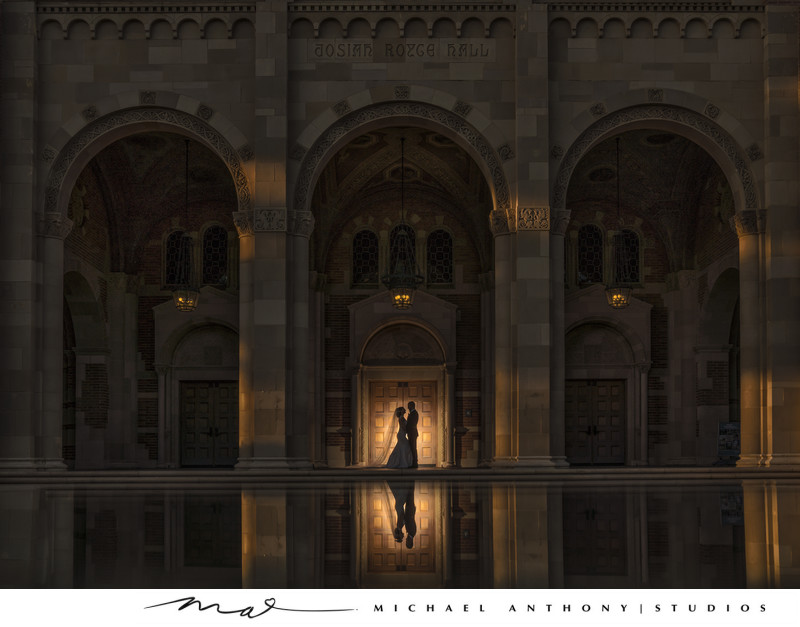 If you'd like to have your photographs taken on the UCLA campus, the Film Locations Management Office doesn't require that you to obtain permits. However, they do ask that any photographs be restricted to personal use only. We will meet in Wilson Plaza at the base of the Janss Steps. The closest parking to that location is Parking Structure 4 at 221 Westwood Plaza Los Angeles, CA 90095. The parking fee for 2+ hours is $12.
UNIVERSITY OF SOUTHERN CALIFORNIA - USC (TRAVEL FEE REQUIRED)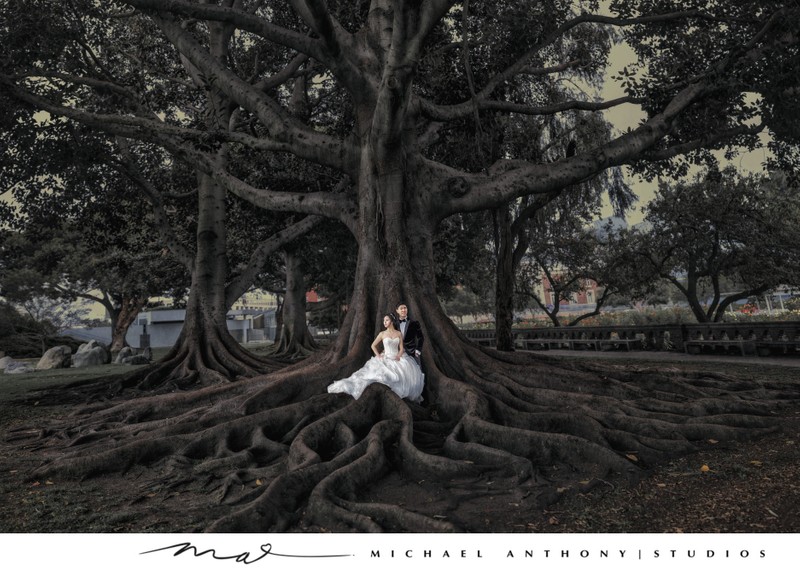 If you or your fiancé is a USC graduate, you might want to consider having your portrait session on campus. According to the USC Campus Filming Office, permits are not required. We will meet outside the McCarthy Way Parking Structure near Gate #3 located at 3499 S. Figueroa Street, Los Angeles, CA 90089.
UNION STATION (PERMIT REQUIRED)
The historic Los Angeles Union Station is an often-used location for photographers. However, on July 17, 2014, I was photographing an engagement session at this location and we were asked to leave by security guards. Until I am able to obtain further information Jeff Cooper at Hollywood Locations, this site is off-limits since the last time I inquired about a paid permit the fee was $5000 per day. In past years no permit was required but the old ticket counter area was typically off limits for photography. However, the main concourse and outside courtyards offer several nice photographic opportunities. And, if you purchase fares, photography on the station platforms was also permissible although photography inside a train is wholly restricted. I've tried several times to gain further information from Jeff Cooper at Hollywood Locations but he has not replied to numerous requests for information. As such, this site is off-limits until further notice. Parking in Lot B is $14. Los Angeles Union Station is located at 800 N Alameda St Los Angeles, CA 90012. We'll meet at the front of the building near the Information booth located immediately inside the main concourse.
THE VICEROY HOTEL (PERMIT & TRAVEL FEE REQUIRED)
This Santa Monica landmark boasts a British-Regency style lobby designed by Kelly Wearstler that offers excellent photographic opportunities when I'm able to use the right kind of lighting. This location is typically available Tuesday through Thursday only with a location permit of $650. Due to the low light levels in the lobby areas, a lighting assistant is required for the Viceroy. . Please remember that photography at this hotel can be greatly limited by hotel patrons; I'm unable to direct guests in the lobby. Valet parking is available for $16.. The Viceroy Hotel is located at 1819 Ocean Ave, Santa Monica, CA 90401.
WALT DISNEY CONCERT HALL
Disney Hall is a great location for both portraits and engagement sessions. It has amazing architecture, beautiful light, and we won't have to worry about official interference as professional photographers are welcome. For this location, we can start at any time of day as our time doesn't overlap with a concert. This is one of my favorite photography locations in Los Angeles.
At Disney Hall I typically prefer meeting in the early morning around 8:00 a.m. or in the late afternoon, a few hours before sunset. However, amazing light is available at this location almost anytime.
For parking, the most convenient is the Disney Hall underground garage. Weekday parking in the Disney Hall garage is $20 if you enter before 4:30 p.m. It's $9 after 4:30 p.m. Monday through Friday and on Saturday and Sunday. Street parking is sometimes available for $4 per hour but the 2-hour limit often means you'll have to leave a bit early to feed the meter. Street parking is free on Sundays. We'll meet at the front of the building at the corner of North Grand Avenue and West 1st Street. The address is 111 S Grand Ave, Los Angeles, CA 90012.
BEACH LOCATIONS
---


EL MATADOR BEACH (TRAVEL FEE REQUIRED)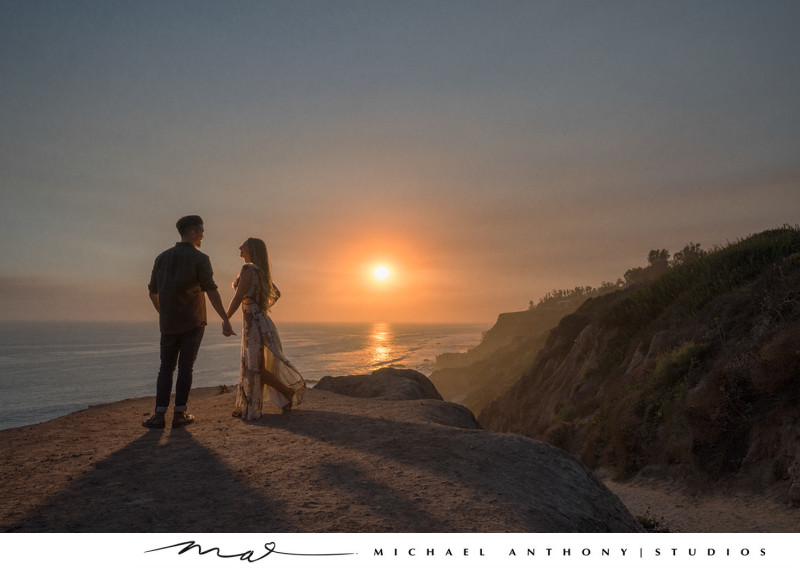 El Matador Beach in Malibu is our top pick for amazing beach photos. This beach is located at the bottom of a steep set of rocks, and the view from the top can't be beaten. As we venture down to the sand, the exposed sea walls create a unique and incredible natural architecture for photos. This location looks best at sunset when the tide is low, so we can traverse the beach and make use of the natural rock formations that would typically be covered by waves. Parking is under $10 at the time that this article was written so it can easily be accessed. The address is 32350 Pacific Coast Hwy, Malibu, CA 90265
LEO CARRILLO BEACH (TRAVEL FEE REQUIRED)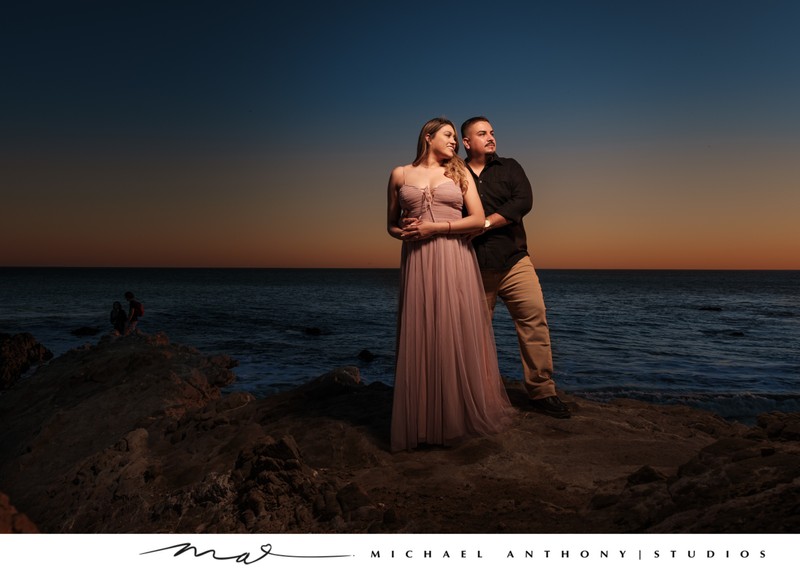 Leo Carrillo is a new addition to our list and possibly our favorite beach to shoot at in Los Angeles County. The beach is stunning, expansive, and in recent years, less crowded than El Matador Beach. The rocky formations like the one pictured above make for a stunning background in your photos.
Like most beach locations, we have to avoid shooting at this one on the weekends, as well as Friday. Sunset is the preferred time to shoot and we must shoot at low tide. Street parking is available usually with a very short walk. We can get a variety of great photos at this location. The address is 35000 Pacific Coast Hwy, Malibu, CA 90265
SANTA MONICA BEACH & PIER (TRAVEL FEE REQUIRED)
The Santa Monica pier, the beach, the surf, and the strand (aka Ocean Front Walk) offer some fabulous and highly varied backgrounds for an engagement session or portrait session.
To avoid large crowds and for the best light, it's ideal to start the session no later than 8:00 a.m. There are several parking options nearby but I prefer parking on the pier ($4 per hour; $12 maximum). We'll meet in the parking lot on the pier. The address is 200 Santa Monica Pier, Santa Monica, CA 90401.
VICTORIA BEACH (PERMIT + TRAVEL FEE REQUIRED)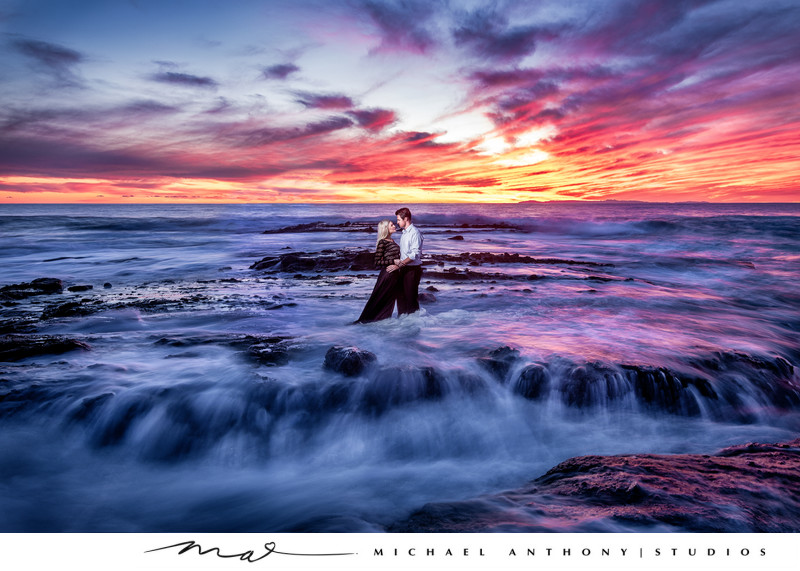 This beach is not in Los Angeles, but a bit south in the beautiful OC. The beach has absolutely gorgeous scenery. When photographing at low tide you are able to take advantage of some very amazing scenery. This location does require a permit issued by the county and advanced notice before shooting there. Laguna Beach will not issue permits unless it is low tide at the scheduled shoot time.
VENICE BEACH & BOARDWALK (TRAVEL FEE REQUIRED)
If you prefer an urban flair to your beach session, the Venice Beach boardwalk has lots to offer. The murals on the buildings between the alleys offer up an amazing number of cool and colorful photographic opportunities. For this area of Venice, there is very sparse non-metered street parking and one-hour metered parking. I, therefore, recommend the public lot at N Venice Blvd & Ocean Front Walk, Los Angeles, CA 90291. We'll meet at the northeast corner of the lot near the fenced paddle tennis courts. To avoid large crowds, it's best to begin the portrait session or engagement session no later than 8:00 a.m.
OFF-LIMITS
Unless you have a connection with facilities management or several thousand dollars in your permit budget, the following locations are regrettably off-limits for engagement sessions.
Banks
Dangerous Urban Areas
Getty Museum
Getty Villa
Grocery Stores
The Grove
Private Gyms
Hollywood & Highland
Hollywood Sign
The Langham, Pasadena
Little Corona Beach
Federal Buildings

Library Interiors
Los Angeles Zoo
Malls and Retail Centers
Museum Interiors
Pacific Design Center
Police Stations
Private Beaches (Malibu)
Rail Yards
Restaurants
Retail Stores
Rodeo Drive
Staples Center
Los Angeles Wedding Photographer Michael Anthony Photography , 26007 Huntington Lane #10, Santa Clarita, CA 91355 | 310-750-0886 - Privacy Policy - Terms of Use <