Michael Anthony Photography
Los Angeles Wedding Photographers
---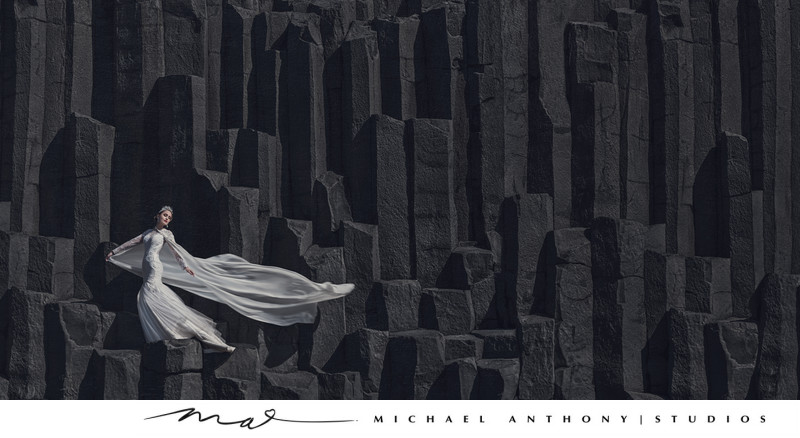 Wedding Photography has gone through trends over the last couple of years. We have seen everything from dinosaurs chasing bridal parties, awkward poses, unflattering angles, and bad lighting. We totally understand your dilemma right now. How do you ensure that you will get photos that look different from everything you have seen. How do you know that your photographer will make you look good? How will you know that they will capture photos that tell a story, and that you would be happy to put them on your wall? Even more important, how can you be sure that your photographer will make you look your best? As a Los Angeles Wedding Photographer, we have the answer for you.
Our goal is to make sure that your wedding photos capture the gravity and the emotion of your wedding day. From stunning portraits to incredible moments between you and your loved ones. We know the core foundations that not only make great photography, but also an incredible experience for you and your family. Through expert posing, fashion-inspired lighting, and incredible storytelling, our goal is to make you look your best.
We created this style of cinematic photography that is focused on you, your family, and the most important day of your life.
Welcome to Michael Anthony Photography
Our images have earned over 100 Awards worldwide since 2014, including "Best of Nations" and a Gold Medal in the World Photographic Olympics representing the United States in 2019. We have earned multiple first-place awards for both portraits and photojournalism. We have photographed weddings in 9 different countries and told over 1,000 love stories.
Now we want to tell your story…
Services Offered
---
Weddings
Our wedding photography is cinematic, meaning it focuses on movement, story, and quality lighting. We take great care to capture beautiful images from all parts of the day for our clients. Here is a gallery of some of our portfolio images
Beauty & Boudoir
We have one of the most active boudoir studios in Los Angeles. We offer photography, video, high-end hair & makeup, as well as many different luxury products for our clients. View our packages here.
Maternity, Newborn, & Family Portrait Photography
Our studio has photographed hundreds of families in the Los Angeles area. We have a 2,000 square foot studio in Valencia, California that allows us to photograph on a variety of indoor sets. We also offer location-based portrait sessions at a variety of locations throughout Southern California.
Engagement Photography
Engagement photography is our first chance to get to know you. We want to capture your personality and love story during its beginning. We shoot at a variety of locations and work with our couples to style the best scenes to create beautiful imagery.
Headshot Photography
Headshot photography is needed now more than ever! It's imperative that professionals make a great first impression. Our brand, SoCal Headshots is Los Angeles's Premier Headshot Photography studio specializing in business headshots for brands.
About Our LA Wedding Photographer Team
---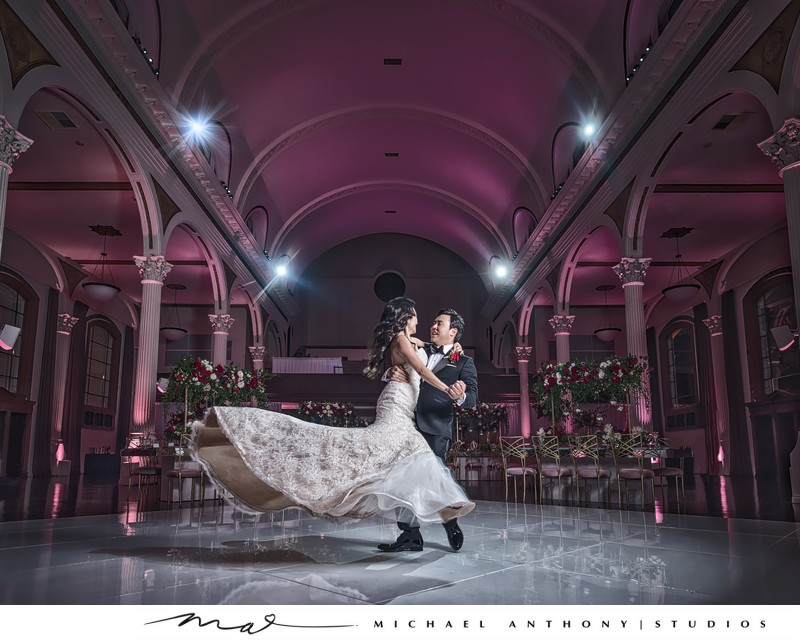 Reception at Vibiana in Downtown Los Angeles
Here at Michael Anthony Photography, our goal is to match your personality and preferred aesthetic with an incredible wedding photography experience that you and your guests will never forget.
Founded in 2011 by internationally published award-winning photographer Michael Anthony, Michael Anthony Photography is here to serve today's modern, trendy brides. Our images have been featured in top wedding sites and publications from Junebug weddings to WeddingWire, California Wedding Day, The Huffington Post, Style Me Pretty, and Bridal Guide.
Creative director Michael Anthony Loizzi pioneered a unique cinematic photography style and has been ranked #2 wedding photographer worldwide by the OneEyeland 2018 World's Best Competition. Aside from photography, Michael is also a writer and speaker, and co-founder of Michael Anthony Photography along with his wife, Jennifer, who manages her own highly successful boudoir photography studio.
Our team of photographers and editors at Michael Anthony Photography is handpicked by Michael Anthony and trained in our Wedding Creatives Academy. Each one possesses advanced skills in lighting, posing, and storytelling, and we certify less than 1% of the photographers that apply for our program.
What we do at Michael Anthony Photography
We specialize in wedding photography, engagement photography, maternity photography, family photography, and more. Indoors or outdoors, by the sea or inland, we've done it all!
If you're thinking of adding a wedding video, we offer cinematography services at a discount to our wedding clients as well. We also have options for destination bridal shoots for couples who want to shoot in locations outside of Southern California and have photographed weddings all over the world. Since 2014, we have helped over 1200 amazing couples document their weddings around the world.
Michael Anthony Photography Style
Michael Anthony Photography is not your run-of-the-mill stuffy wedding photography service. We focus on cinematic portraiture, meaning that we incorporate movement and fashion-inspired posing and lighting into our work for a breathtaking experience and images like you've never seen before. Our creations are not mere photographs, but world-class art, blending traditional photography with creative photojournalism and modern fashion influences to create one-of-a-kind images that you and your loved ones will treasure.
Our team of 20 talented photographer-storytellers at Michael Anthony Photography exists to make luxury photography available to everyone. We created a style of photography that puts your story at center stage and allows us to capture your love reflected in your emotion, the environment, and the people you love the most who are here for you on the most important day of your lives.
Every single artist on the team at Michael Anthony Photography is trained to be proficient in three different styles of photography. We guarantee our clients variety in styles and locations and shoot each wedding in all three styles. These are the three styles that we specialize in:
Cinematic
This is the signature MAPhoto style, which blends bursts of color with fashion-inspired lighting to unify you and your environment. Though this is the most difficult style to shoot, our team is trained to create at least one image in this style for each part of your wedding day, and the results are perfect as framed wall art for your home.
Photojournalistic
If you love seeing the emotion from your wedding day, you will resonate deeply with our second style, which we create by capturing emotional moments as they unfold before our eyes.
Traditional
As Los Angeles wedding photographers, we often shoot couples in well-lighted as well as not-well-lighted areas. Natural light is a hot topic among folks in the photography industry, and we are able to create this clean, airy, and light look for you even when the light is low. This timeless, classic form of photography will never go out of style.
The Michael Anthony Photography Philosophy
We believe that wedding portraiture ought to stand the test of time. In other words, your photos should not look cheesy in five to ten years. Our photos blend movement, lighting, and storytelling to create unique pieces of art for your album and your home. Even in darkened settings, for instance, an ancient cathedral, where there is no natural light, we know how to create just the right amount, playing with shadows to create visually stunning images.
Simply put, our goal is to provide our clients with a flawless photography experience from start to finish and match your creative vision to a tee.
Where we shoot
As Los Angeles wedding photographers, we've documented our couples in hundreds of gorgeous locations, from the Walt Disney Concert Hall to the Biltmore Hotel, from Beverly Hills to Pasadena. As Orange County photographers, we will follow you wherever you want to go, from Newport beach pier at sunset to downtown San Juan Capistrano.
Hire MAPhoto to capture your dream-come-true wedding!
If you are planning to get married in Los Angeles, Orange County, Ventura, Santa Barbara, Santa Clarita, and looking for the perfect wedding photographer, MAPhoto is the perfect match for you. We will sit down with you and help you translate your vision into reality, bringing your vision to life. You take your wedding photography seriously, and we do too.
Your wedding day is your day to shine, and of course, you want to hire a Los Angeles wedding photographer that understands you, a wedding photographer that captures every unique moment and MAPhoto would love to be that photographer for you!
Contact our client coordinator to get more detailed information and to schedule a video consultation to provide you with a full quote for your wedding day. Whether you need advice on finding the perfect Los Angeles wedding venue or have other questions about our services, call us anytime Tuesday through Saturday from 10 am to 7 pm or schedule a studio visit to our Santa Clarita studio. So contact us today! We cannot wait to meet you and tell your love story through stunning, unforgettable images.
Main Service Areas
Wedding Photographers Los Angeles
As Los Angeles Wedding Photographers our goal is to provide our clients with unique photography that they will cherish forever.
If you are looking to get married at any of the amazing wedding venues in Los Angeles, you will want to make sure that your day is captured in a way that is memorable. Our goal is to provide all of our LA wedding clients with that service and style. With a fashion flair and a creative take on photojournalism, our clients are our number 1 priority. Being based in Los Angeles provides us with access to some of the most beautiful locations in Southern California to provide our clients with amazing wedding and engagement photos.
Our goal is to provide the best Los Angeles Wedding Photography experience to clients no matter where they are coming from in the world.
In addition to wedding photography, we provide engagement portraits to give couples stunning engagement photos while getting to know them before their wedding.
Orange County Wedding Photographers
Being Wedding Photographers in Orange County, we have photographed at some pretty incredible Orange County Wedding Venues. It has always been our goal to provide our clients with some of the most beautiful wedding pictures from the beautiful California coasts.
We offer affordable Orange County Wedding and Video packages and would love to provide you with a free quote. Please get in touch with us with any questions that you may have.
Santa Barbara Wedding Photographers
Santa Barbara and Ventura County can provide one of the most picturesque locations for wedding photography in all of California. Our studio is located less than an hour away from Ventura County and is easily accessible via the 126 Freeway.
If you are looking for a wedding photographer in Santa Barbara, our team of talented professionals can provide you with the best service and affordable packages. Please get in touch with us today in order to check availability for your wedding day.
Santa Clarita Wedding Photographers
Our wedding photography studio was started in Santa Clarita, California, and to this day we are still located in Valencia. If you are getting married at one of the amazing Santa Clarita Wedding Venues, then we would be a great option for you!
We provide wedding photography in Santa Clarita, Valencia, Canyon Country, Saugus, Piru, Agua Dulce, and more. If you are looking for a Santa Clarita Wedding Photographer, look no further!
Los Angeles Wedding Photographer Michael Anthony Photography , 26007 Huntington Lane #10, Santa Clarita, CA 91355 | 310-750-0886 - Privacy Policy - Terms of Use