Los Angeles Wedding Venues
Californians pride themselves on the state's amazing beaches, beautiful mountains, and temperate weather. Angelenos have it even better, if you add the amazing skylines, as well as so many some incredible wedding venues to the mix. The mild weather, gorgeous city views, lush golf courses, and watercolor sunsets make LA an ideal wedding destination, and with so many venues to choose from, a bride has all she needs right here.
As wedding photographers, we've photographed hundreds of wedding venues across the country and around the globe, but we're always drawn to the unique architecture and views in our hometown of Los Angeles. We've been lucky enough to work with brides in almost every spot in LA, and we've compiled a list of our favorite venues for our brides-to-be. As you start searching for your venue, it's important to decide what type of location you're drawn to most. Whether it be a beach-side resort, garden terrace, or hotel banquet. All of these spots have unique benefits, and we're going to let you in on some of those here.
Los Angeles Beach Wedding Venues
Los Angeles is known for having a premium pick of beaches nearby, and they haven't gone unnoticed by our brides. Getting married in the sand or on a deck overlooking the waves is many brides' idea of paradise, and your guests would agree with you. A beach wedding is the perfect way to bring the laid-back vacation feel to your special day. All while making it feel like a getaway for your friends and family.
For photographers, the crashing waves behind our bride and groom are a dream to photograph, and we can pull our newlyweds onto the beach for some incredible photos with their bridal party and family once they've said "I do". Bring the beach inside for a nautical themed reception that your guests are sure to love, and your party is going to be a hit. We like to bring our bride and groom outside for some special sunset photos as the sun dips over the horizon on the water. These usually end up being our couple's favorite photos of the night.
Los Angeles Country Club Wedding Venues
With so many beautiful golf courses in Southern California, our brides can't go wrong with a wedding on the green. Golf courses are scenic with luscious rolling hills for acres, and beautiful paseos to shoot along. They are also practical, since so many golf courses are all-inclusive when it comes to catering and rentals. With options for an inside or outside reception, our brides have choices to suit their taste, as well as an easy back-up plan for inclement weather.
Most golf courses will even provide golf carts to the bridal party to make those portraits during cocktail hour easy on our our bride and photographer, and allow us to shoot all over the course!
Los Angeles Hotel Wedding Venues
Getting married at a hotel is the perfect way to find an all-inclusive venue where our couples can stay all day from getting ready in the morning to the time they kick off their shoes at the end of the night. Having one location makes things easy for your wedding guests since they won't have to travel, and it will cut down on the planning work for you since the venue will take care of rentals and linens. Most hotels will have great indoor and outdoor options to host the ceremony, as well as options for a fully-stocked ballroom for the reception.
When we shoot at hotels, we love taking advantage of the amazing natural light in the morning in our bride's room. With so much space for you and your bridal party, a hotel room is the perfect bridal suite to photograph your details and getting ready photos. Later in the day, we can take advantage of the high ceilings in the hotel lobby, and the scenery around the building to create some amazing create photos for our bride and groom.
Your friends and family will be able to drink and enjoy cocktail hour longer since they won't need to drive, and can easily funnel into the banquet room as the party starts!
Los Angeles Banquet Hall Wedding Venues
For our brides that are sealing their vows at their favorite church, a banquet hall is an excellent choice to continue the party with their guests. Banquet halls offer a clean, modern look and feel for your reception, and create an ideal space for photography where your photographers can get creative with lighting on the dance floor. With so many banquets halls close to downtown LA, the centralized nature of these venues is easy for your guests to get to no matter where they're traveling from. This allows so many choices for churches in the vicinity.
Banquet halls offer a full service wait staff, and boast a wide selection of tables, chairs and linens, checking one item off your planning to-do list. With no noise restrictions, your guests will be able to party the night away until you're ready to call it a night.
Once you decide which one of these venues suits your needs, it's time to start location scouting! There's so many venues to choose from, so you have your work cut out for you. We've rounded up some of our favorite locations we've photographed over the years to give you a head start.
Finding Your Los Angeles Wedding Photographer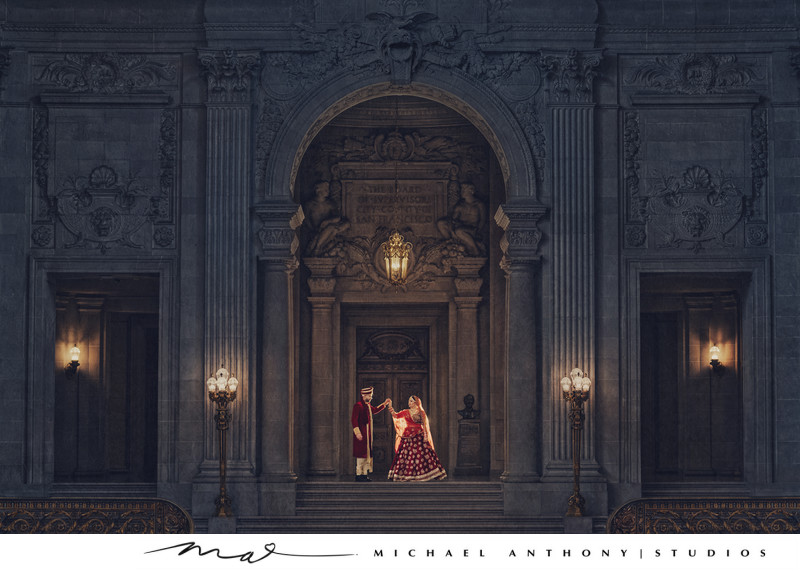 It's no secret that there are a lot of photographers for you to choose from. The question is, how will you find someone who can capture your day the way that you envision. Let's be honest, not all wedding photography studios are created equal. We are one of the only Wedding Photography studios in Los Angeles that offer both affordable, and luxury wedding photography options, and there are a few important reasons why we think we could be a good fit for you.
1. We Know Los Angeles Weddings
Our studio was founded in Los Angeles, and has photographed weddings all over the world. We understand the flow of a day, and our photography team does as well. Other multi-photographer wedding studios will tell you that they only accept 2% of their applicants. However, the truth is that we are the only wedding photography studio that guarantees a style and quality to our clients. How do we do that? We don't just hire photographers who take pretty pictures. Each Team 23 photographer has to not only pass the application process, but also graduate from our wedding photography academy, which means that we only take the best of the best. And being a good photographer is not enough, they have to give you, our clients the best possible experience that they will remember on their wedding day. Need more proof? Check out what our clients have said about us on Weddingwire and The Knot.
2. We have experience at all of the best Los Angeles Wedding Venues
Los Angeles is big, and has hundreds of wedding venues. It takes years to shoot at hundreds of different wedding venues. We have photographed thousands of weddings since 2012 and we know the best places to shoot! For inspiration, take a look at our Pinterest account, which we add images to every day!.
3. We give 100% on every wedding
We have a high standard for wedding photography. Our team as seen (almost) everything that happens at weddings. And in order to capture the best moments, you have to be able to put in the work. Our artists are with you before, during and after the wedding. The Team 23 coordination team makes sure that you get photos at the best possible time of day. Our team will work with you to make sure that you are happy, because after all we are not just taking photos of you. This is the most important day of your life. We don't take it for granted, and we give it our all on every assignment.
Los Angeles Wedding Photographer Michael Anthony Photography , 26007 Huntington Lane #10, Santa Clarita, CA 91355 | 310-750-0886 - Privacy Policy - Terms of Use