Bride's Guide to Gorgeous Wedding Photos: Introduction
---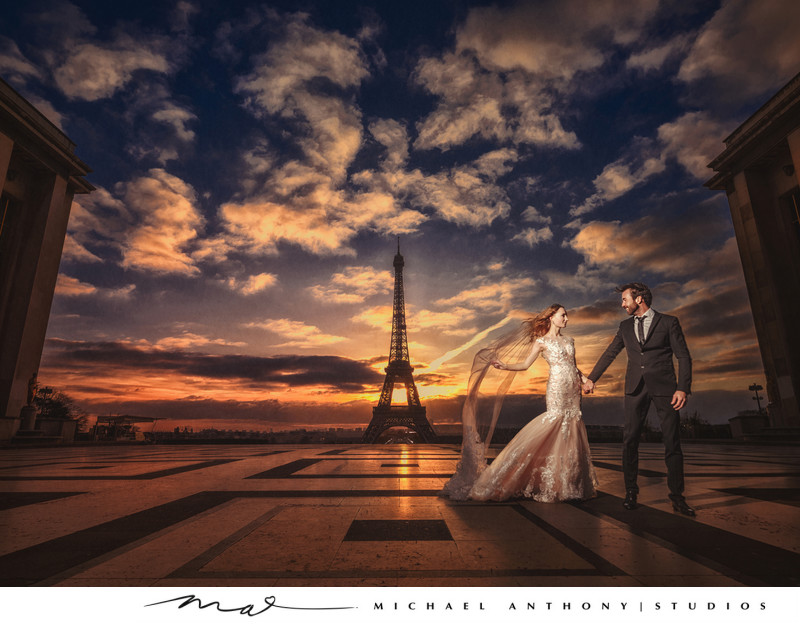 A destination wedding timeline is crucial to ensuring good photos
The day of your wedding will always be a fond memory in your heart, but it's important to have physical reminders of the glorious celebration as well. Beautiful photos that document every important moment will make the best mementos, and this simple guide will help you find the best photographer and plan your wedding in a way that will allow for gorgeous pictures to be taken.
---
Step-by-Step Guide to Choosing Your Wedding Photographer
There are many good photographers offering their services in every city, but you need to find one who will truly be the best. To do this, you should take the following steps:
Do your research.

The Internet will help you find photographers in your area. Take a look at their websites and read reviews from their previous clients to learn more about these professionals. Compile a list of those whose photography you find the most interesting.

Study portfolios and choose the style.

Every photographer has his or her own unique style. This personal touch is what makes a true artist, but you need to understand that a professional with a specialization in one type of art may not be able to create equally great pictures in a different style. Therefore, it's essential to study the portfolios offered by different specialists carefully and pick the ones who work in a style you like most.

Arrange interviews.

Going through portfolios will help you shortlist several (3-5 will be best) photographers whose style appeals to you. You should set up meetings with these people as a personal interview is an essential factor in choosing a photographer. You need to feel comfortable with this person, so that you can relax in front of the camera and trust the specialist to take stunning pictures. Make sure to prepare for the interview by compiling a list of questions. This way, you won't forget anything important.

Discuss technicalities.

Technical details, such as package, cost, your rights, other people included in the photographer's crew, etc. must be discussed in great detail. They don't affect the quality and artistic value of the shots, but these things must be considered for the sake of your budget. Compare the offers and pick the one that meets your needs best.
---
The Importance of Wedding Photo Timeline
Planning is the key to a successful operation, so if you want to get gorgeous pictures, you need to be sure you set aside enough time to make them. Note that the best shots require natural light, so consider the season and daylight hours when planning your timeline. Here is an example of what it should look like.
Morning
Details: 30 minutes.
These are the pictures of the rings, dress, shoes, and other objects that will help to tell the story of this magical day.
Get ready photos: 60 minutes.
Invite a photographer to arrive at least an hour before the scheduled end of your get ready session so that he or she will have enough time to take detail shots as well as get ready shots of both bride and groom.
A Wedding Ceremony at Calamigos Ranch Oak Room
Late morning early afternoon
Individual portraits: 30 minutes for each bride and groom.
These pictures will need to be taken immediately after the get ready session, so be sure to allocate enough time for this shoot before the ceremony.
First look and couple session: 60-90 minutes.
This session is optional, though it's getting more popular by the day. The first look is a very intimate experience for the happy couple and pictures turn out to be truly magical.
Wedding party photos: 45-60 minutes.
Note that the length of this session will depend on the size of the wedding party. You will need to discuss the guest list with your photographer beforehand and determine the kinds of shots you want to take.
Family photos: 45-60 minutes.
This is another session that directly depends on the number of people involved and your personal preferences regarding the pictures. You can look up the ideas in the photographer's portfolio.
An editorial style bridal portrait
Afternoon
Formal shots with extended family: 30-45 minutes.
This session can be shorter and it can take place either before or after the ceremony.
Ceremony and venue: 60 minutes.
Shooting the ceremony is a challenge as the environment often works against the photographer. Look up some tips in the part of this guide dedicated to wedding ceremony photography.
Couple session: 60 minutes.
Be sure to choose the location in advance.
Late afternoon – evening
Reception and venue: 30 minutes.
The venue will need to be photographed before the guests are seated.
Couple receptions sneak out: 30 minutes.
A wonderful way to finish your photo day.
Los Angeles Wedding Photographer Michael Anthony Photography , 26007 Huntington Lane #10, Santa Clarita, CA 91355 | 310-750-0886 - Privacy Policy - Terms of Use <